I Finally completed my new UV lights and vacuum frame. It will accommodate a full sheet of watercolor paper with room to spare. It uses 24: F30T8 BL bulbs and six electronic ballasts for the light source. The black skirt is made of felt and blocks stray UV. The bulbs are suspended just 2″ above the vacuum table.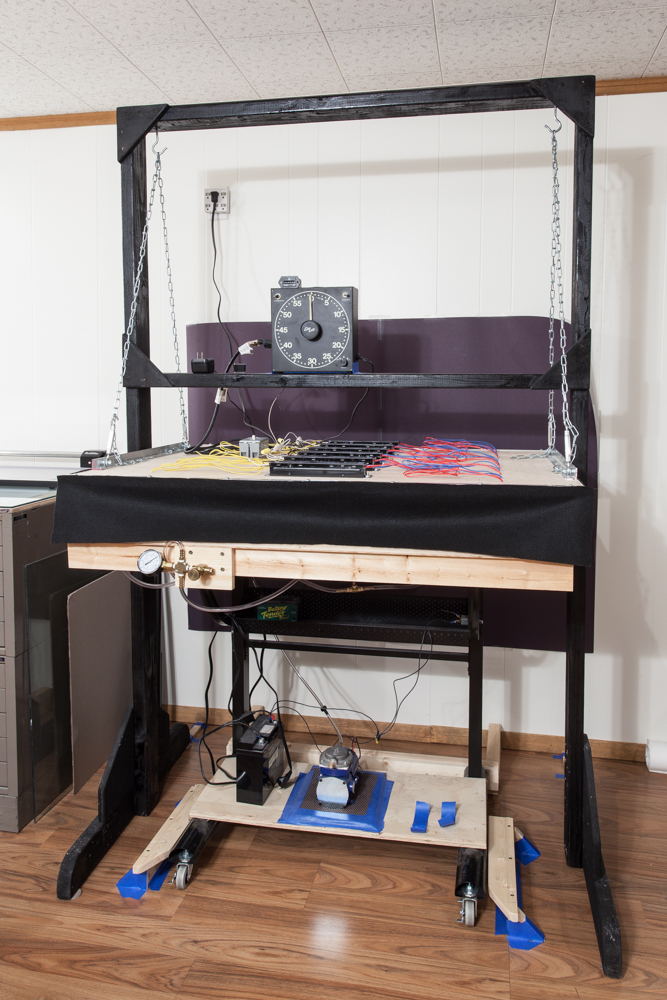 Here's a peek at the 24 black light bulbs. The end sockets are mounted to a sheet of 3/4″ maple plywood with a layer of galvanized steel in-between as a ground plane for the bulbs. Below the bulbs you can see three computer fans used to cool the bulbs during use.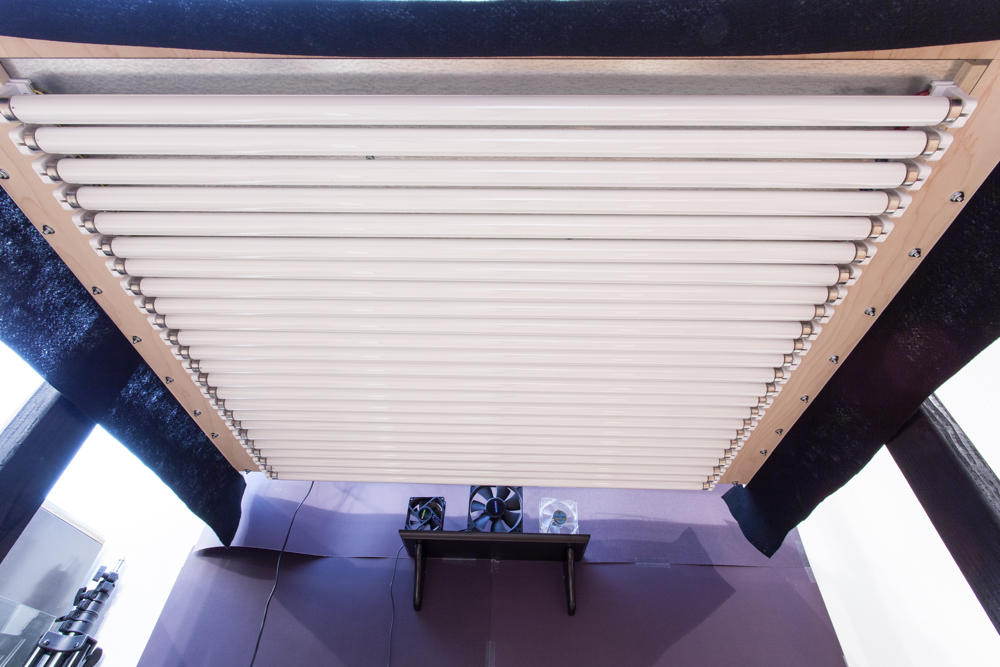 An electric hour meter will keep track of bulb usage.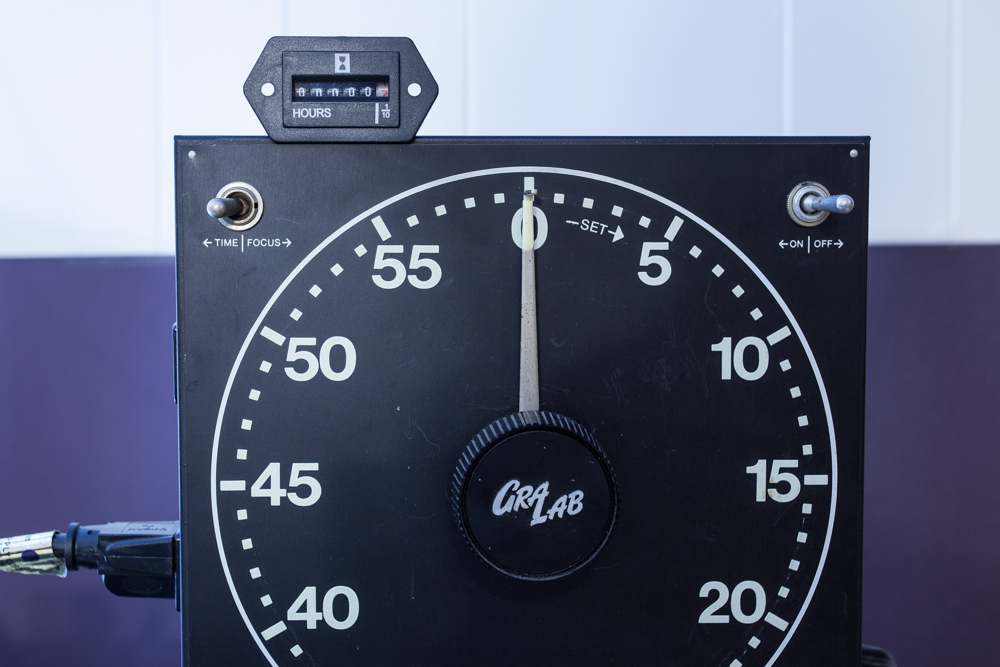 And here's the vacuum table showing the Kreene film partially unrolled. The usable (black) surface measures 27″ x 38″ with an overall size of 35″ x 44″ of maple plywood. The vacuum pump runs on 12 volts and was re-purposed from an old automobile windshield repair kit. It is powered by a 33Ah battery and a smart trickle charger. At the front of the table is a bleeder valve to control the amount of vacuum for various processes. So far I have seen the pump pull a maximum 16 inches of vacuum on this table. The black textured surface was purchased from Lowes hardware and is contact glued to the plywood. Surrounding that is 3/4″ Velcro (self-adhesive, hook side). A hole is drilled near the upper right and lower left corners of the Velcro and brass hose couplers are epoxied into the holes on the bottom of the table. Plastic tubing of 1/4″ i.d. is fitted onto the brass pieces and connected to a "tee." Then a single tube runs to the vacuum pump.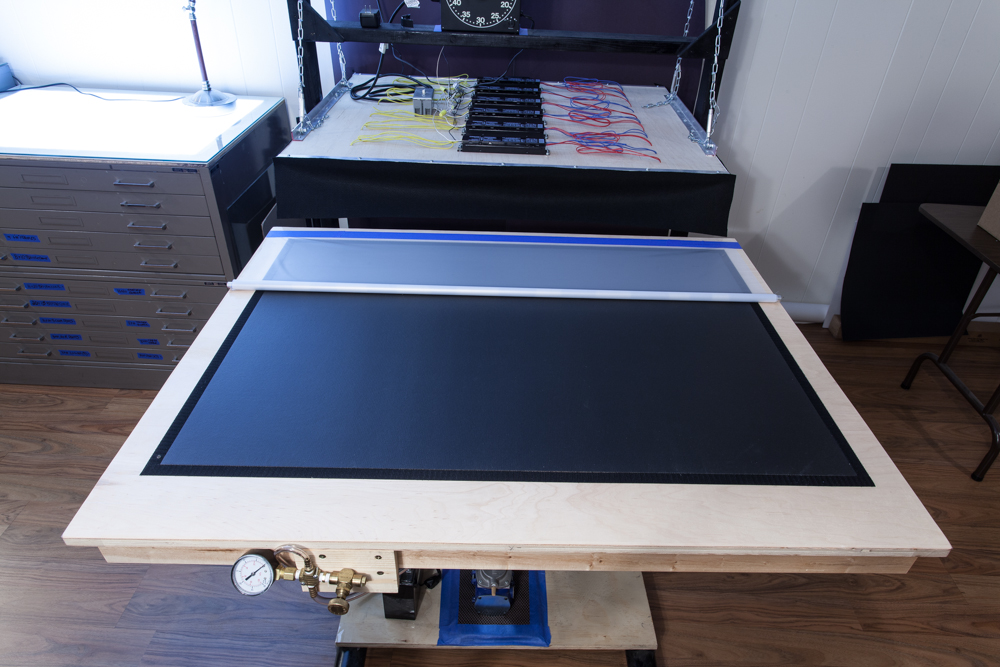 Resources:
Textured black rubber mat Available at Lowes stores in the kitchen shelving area.
Hour Meter: search Amazon.com for "110v hour meter"